Downtown Victoria Business Association Spotlight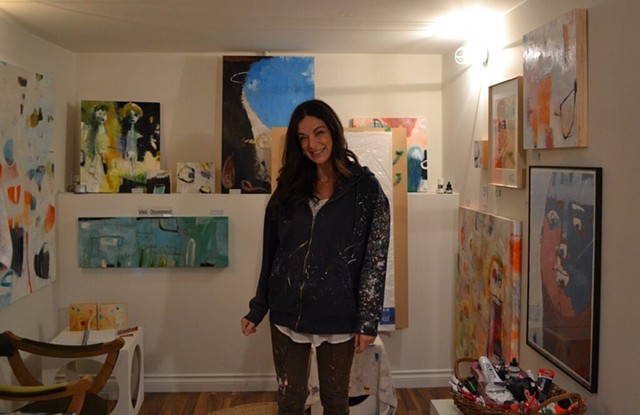 Downtown Victoria Business Association
Blog
Small Business Spotlight: Vikki Drummond Art
Ariel Glidden, Marketing Assistant
December 11, 2020
Vikki Drummond Art is now open downtown! Located in Fan Tan Alley, this beautiful little shop and art studio is full of creativity and wonderful art pieces. With the pandemic still a part of our lives, small businesses, such as Vikki Drummond Art, need our help to stay open and survive the financial difficulties of our present circumstances.
Vikki Drummond Art


Vikki Drummond Art is a new small business downtown, run by Vikki Drummond. This art studio and shop is tucked in the historic setting of Fan Tan Alley and is open from Wednesday to Sunday. Whether you're looking to purchase a piece or just want to talk about art, this is the place to visit!
Vikki in her studio (see above). Photo by Ariel Glidden
What is your background?
"I grew up in the Okanagan. I am told that I said at age 4 that I was going to be an artist when I grew up. I didn't play with dolls, I drew, painted, carved, collaged, and designed my own clothes. As a young teen, I took oil painting lessons and my favourite class in Highschool was art. I enrolled in the BFA program at Okanagan College but didn't take to it. I met a boy who was in the business program so I switched to business. Crazy but true. I spent the next 20 years in sales and marketing and did well at it. When I was pregnant with our second child, I started making handmade greeting cards with little pen and watercolour drawings on them. From then on I started to look at a lot of art and visit public galleries. One day I just started painting. I've really never looked back. It fills me up."
What made you want to open your business?
"I was looking for studio space. I had a choice between being in a space with limited walk-in traffic and this little gem. Fan Tan Alley is pretty magical and I like the regular foot traffic. It's a fun way to meet people daily."
What makes your business special?
"I like the idea of putting my own spin on an art gallery. I've tried to make my studio gallery feel like a playhouse or den. That way people who might feel too intimidated to enter a gallery will pop in here. Art should be available to everyone. Because this is my studio, you can watch me work. Or you can come in and browse. I'm happy to chat and answer questions or just let you look. I'm pretty sure you'll feel a little lighter for coming in. My work is playful and colourful."
What inspires you?
"I'm drawn to distortion. I like what a disproportionate, jagged, partially obliterated image has to say. I think we humans are a deeply flawed lot and I try to convey this in my figurative work. I'm interested in how the mind translates time, place, experience, and memory into visual form. So I think about painting my impressions and experiences in a way that doesn't leave room for my ego to interfere. I'm looking for imperfection because I think that's reaI and it affects all of us equally. To that end I have studied the work of Basquiat and Picasso. I find the ancient primitive cave paintings, as well as the art of children, influences my work.."
Why downtown?
"I love the energy and character that a city's downtown emanates. My imagination is already pretty solid but the old brick and history that seeps from the walls of this Alley further blurs the line for me between reality and my own world. I also connect with the small business atmosphere and love to support these spunky, unique operators whom I believe are so important to a strong and vibrant community. I really feel like this is where I belong."
What advice would you give to others who want to start a business? What would you have liked to know before you opened yours?
"I think if you are going to start a small business, make sure you love – and I mean LOVE, what you do. That way when you encounter struggles and your income wanes as it will, you can muster what you need to keep it alive and still be emotionally healthy. For me, this is first and foremost my studio and it's worth every penny to have it. I'm motivated to provide a fun and inviting little playhouse to buy art in, so that I can keep painting. I love the exploration, the discovery that comes with creating. The expression. I like the idea of helping others find it too. So maybe I'll start art lessons? Who knows. Life's a lark :)."
How to find Vikki Drummond Art:


Vikki Drummond Art is located at 104-3 Fan Tan Alley. You can reach Vikki over the phone at 250-317-9604 or by email at vikki@vikkidrummondart.com. She can also be found on her website and on Facebook and Instagram!