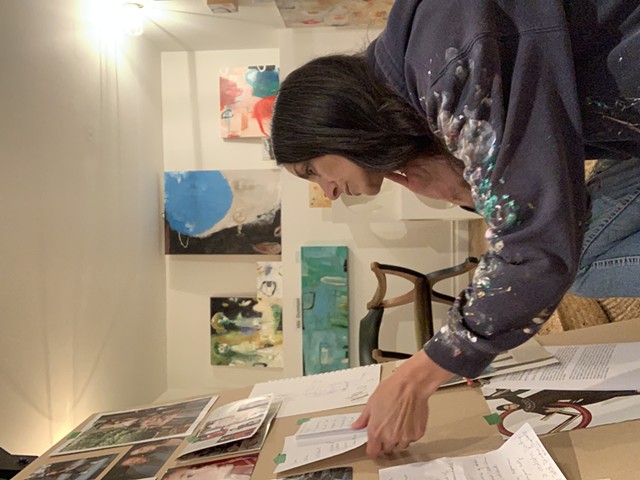 Growing up my head was in the clouds. I didn't understand anything.
I still don't. So I paint.
My paintings are always questions and sometimes stories. I use escapism, distortion and absurdity to see life.
Themes in my work include human connection, identity, the seen and unseen, dynamics of viewership and literal and psychological space.
As an adult and with my experiences, the world feels like a heavy place. But the child in me is still very present. Because of this I try to work with weightlessness in my paintings - to remove the rock from our chests. Using an overdeveloped imagination and a still intact sense of wonder, I employ unreal elements with earthly representations often together. I try to use a light heart, fantasy and a bit of grit to lift the heaviness from the viewer - both emotionally and physically. The hope is that the weight is removed from the images, the space around them and even the ground beneath.
Essentially I feel off-Center, mildly deranged, unreasonably happy and often misunderstood. I think I paint what I am.










~ ~ ~ ~ ~ ~ ~ ~ ~ ~ ~ ~ ~ ~ ~ ~ ~ ~ ~ ~ ~ ~ ~ ~ ~ ~ ~ ~ ~ ~ ~ ~
"... Vikki's work is coming from a place of singularity where it is highly personal and visually engaging... I would be remiss if I didn't draw attention to the fact that she is honing in on a personal sense of colour that supports the imagery she has developed... this work takes calculated risks and in my estimation it has delivered."


- Artist Robert Bigelow
"Fictitious Form" publication
~ ~ ~ ~ ~ ~ ~ ~ ~ ~ ~ ~ ~ ~ ~ ~ ~ ~ ~ ~ ~ ~ ~ ~ ~ ~ ~ ~ ~ ~ ~ ~